Identity Development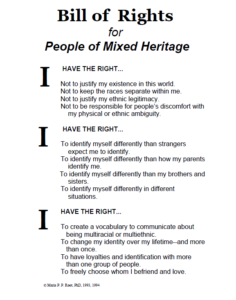 The following framework is adapted from the work of Maria Root, who compiled 50 Experiences of Racially Mixed People and wrote The Bill of Rights for People of Mixed Heritage.
Acceptance of the identity society assigns
Passive resolution of identity status.
May be positive but is often tenuous.
Identification with a single racial group
Active resolution of identity status.
May not be available in certain parts of the country.
Identification with both racial groups
Active resolution of identity status.
May not be available in certain parts of the country.
Identification as a new racial group
Strong kinship to other biracial/multiracial people.
Positive resolution if the person is not trying to hide or reject any aspect of that person's heritage.
Dr. Chap, in Recording and Resources: Understanding Racial-Ethnic Identity Development, gives her take on the framework:
"Biracial identity — Poston and then MPP Root created these two models — the biracial model the multi-racial model.
And this one has been really helpful for me as I think about my two children who are biracial and how the language that I used for them was, society says I am … , so I would name their identity. And I found my daughter as she is now a 17 year old really navigating what does it mean for me to be this one identity and not acknowledge the other one? That enmeshment and denial. I don't even know what it means to be Latina? Yet she understands what it means to be black because she's a darker shade than I am, darker shade than her brother, and was welcomed by the black community in her school, and really sees herself as a black human being in this country. But was not really clear what it meant for her to be Latina. So she had to sort of think about that. And as she moved into adolescence, she's come to this sense of appreciation of her duality and really embraces both of those identities now. But she had to do a search at her own time. Middle school was her search of her blackness, and now in high school she's really navigating her Latinidad.
And for the multi-racial people it becomes more complex. You know, I have so many identities, which one do I accept? Which is the dominant one in my family? Who's the parent that has the most influence perhaps whose culture I'm being raised by? For multiracial people, MPP Root talks about the importance of choosing a single identity, meaning there's a time when people can navigate that back and forth, until they get to the fluid stage where, at every given time, I may choose one part of my identity or another. I may be accepted by one group because of what my features are, versus another group that I have to actively name myself as being a member of that community."
Resources
Videos
Are You Asian Enough, from College Humor

Being Multiracial in America, from The New York Times

How Diversity Shapes Multiracial Experiences, from NBC Asian America

The Struggle Of Being Mixed Race, from Boldly

What its like to be raciallly ambiguous, from Boldly 

16 things you should never say to a mixed race person, from Buzzfeed

Articles
Don't Erase My Race: 4 Affirmations to Remember When Reclaiming Your Multi-Racial Identity, from Everyday Feminism
4 Ways Parents Can Support Their Mixed Race Children, from Everyday Feminism 
6 things I wish people understood about being biracial, from Vox
Websites
Critical Mixed Race Studies: Critical Mixed Race studies is the transracial, transdisciplinary, and transnational critical analysis of the institutionalization of social, cultural, and political orders based on dominant conceptions of race. CMRS emphasizes the mutability of race and the porosity of racial boundaries to critique processes of racialization and social stratification based on race. CMRS addresses local and global systemic injustice rooted in systems of racialization.
Sharon H. Chang: Sharon H. Chang is an award-winning Author Photographer Activist with a lens on racism, social justice and the Asian American diaspora. Her inaugural book Raising Mixed Race: Multiracial Asian Children In a Post-Racial World was released in 2016 to critical acclaim. Sharon is a columnist and contributor at The South Seattle Emerald. Her writing has also appeared in BuzzFeed, ThinkProgress, Racism Review, Hyphen Magazine, ParentMap Magazine, The Seattle Globalist, AAPI Voices and International Examiner.
Return to 11-Step Guide to Understanding Race, Racism, and White Privilege.