Walter Scott. Meagan Hockaday. Eric Harris. 
Hillary Clinton's announcement has taken over my newsfeed for the moment, but we must also keep our focus on Walter Scott, Meagan Hockaday, and Eric Harris—all three Black Americans recently killed by police. NO MORE! 
Walter Scott. Scott was shot eight times in the back as he ran from a White police officer, Michael Thomas Slager, whose account of what happened was later shredded by a video recording.
For more about the killing of Walter Scott:
Everything The Police Said About Walter Scott's Death Before A Video Showed What Really Happened
Walter Scott, just another 'isolated incident'?
Meagan Hockaday. The killing of Hockaday was not caught on video and has not received a great deal of media attention. The police shot and killed Hockaday, apparently in front of her three children, after investigating a domestic dispute early Saturday morning. She reportedly had a knife but it's hard to know what to believe after seeing the video footage of Slager planting on object next to Scott. According to one source, the Oxnard police department has a long history of using excessive force.
For more about the killing of Meagan Hockaday:
Meagan Hockaday Shot and Killed by Police
Whistleblower cop: Oxnard, Calif., police get gun and skull tattoos every time they shoot someone
Eric Harris. A White reserve deputy meant to taser Harris fleeing the scene during a sting operation. Instead, he accidentally shot Harris, who, according to a video recording of the moment, said, "He shot me. He shot me. Oh my god. I'm losing my breath." Another officer responded, "You shouldn't have fucking ran" and "Fuck your breath."
For more about the killing of Eric Harris:
What we know about the police shooting of Eric Harris in Tulsa, Oklahoma
Video shows Tulsa man shot by deputy who meant to stun him
I also encourage you to check out this article and chart:
This chart explains why black people fear being killed by the police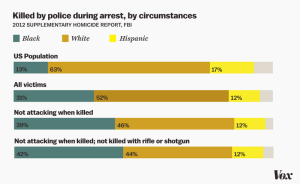 Part of me feels that the killing of Black Americans by the police has reached new levels, but part of me knows that, more likely, what's new is the frequency that the killings are caught on camera, as well as the spreading of news through social media.
It feels like every week brings us a new name to remember. This past week has brought us three. No more. No more.
If the killing of Black Americans is business as usual, let's shut business down (which, admittedly, is easier for me to say since Seattle Public Schools is on spring break).
That has been the message of many prominent figures—including Alice Walker, Cornel West, Carl Bix, and Eve Ensler—even before the loss of Walter Scott, Meagan Hockaday, and Eric Harris. These figures have called for nation-wide protests on Tuesday, April 14th.
Find out if one is organized near you: Stop Mass Incarceration 
For those of you in Seattle, here is what's planned:
April 14th
Westlake Park
2:00 pm