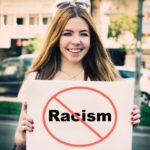 Nothing upsets White Americans like calling them a "racist." It can spark outright indignation, extreme defensiveness, a faucet of tears, and a host of emotions that dwell in our primal selves. 
Why do White Americans fear the word so much?
Over the past 15 years of teaching about race and racism at the high school level, I have polled my students on their associations with word "racist." The list is relatively consistent from year to year: the Confederate flag, the Ku Klux Klan, burning crosses, white sheets. 
In other words, they consistently associate "racist" with the symbols of the most egregious and deadly forms of White Supremacy. 
No wonder so many White Americans flee from racism. 
But fleeing racism is the primary way we as White Americans support, protect, and perpetuate racism. Here's why: 
When we bolt, we don't discuss racism. We don't analyze it. We don't even face it. We are too busy creating distance, with our backs turned. 
In short, fleeing precludes the necessary process of discovery that transforms an ignorant White American to one we desperately need: an anti-racist White activist. 
Consequently, the status quo remains with its nails sunk deep into the future. 
Robin DiAngelo, a scholar who writes extensively on whiteness, explains these responses as an inevitable outcome of what she calls the "good/bad binary." As White Americans, we think of racism as bad, so if we hold a racist belief, then we too are bad. Conversely, if we hate racism, then we are good. 
To many White Americans, even exploring the concept of the White Privilege confines them to the binary, condemning them as evil racists and sending them packing.
My students' associations with "racist" perfectly exemplify this binary. 
But if we White Americans truly hate racism, then we can't distance ourselves from it. 
After all, what threat has ever ended because we turned and fled?
Like espousing colorblindness, distancing yourself from racism is a flawed strategy. Learn what you can do instead by reading the rest of the article: 
How White Americans' Hatred of Racism Actually Supports Racism Instead of Solves It