The following is based on an excerpt from my Everyday Feminism article, 7 Undeniable Reasons Why Claiming You're 'Not Political' Makes No Sense, and is part of the series Roads to Racial Justice. While the introduction was written prior to inauguration, the list is continually updated as new resources emerge.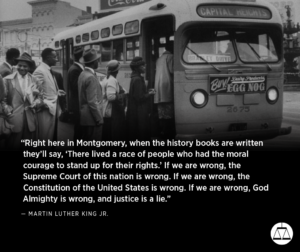 As is true for many of you, the course of my immediate future shifted on November 8th. Prior to election day, of course I had plans to continue helping push the arc of the moral universe toward justice, but they did not involve writing about how to resist our president-elect.
To be clear, this resistance is hardly about differences in political ideology. It's about resisting hate and White supremacy, neither of which represent the values of many Republicans. It's about resisting bigotry and misogyny. It's about resisting a potential cabinet that neither reflects most Americans nor represents the values of most Americans, including many who voted for Trump.
So the coming years promise to be full of some serious battles. I have compiled valuable resources to help us get battle-ready. This list grows every day, so please add new resources in the comments.
Articles
An anti-Trump movement is calling for the boycott of these 32 retailers

, from Business Insider

The Art of Protest

, from The New York Times

5 Things You Can Do Right Now About Donald J. Trump, from Michael Moore
5 Ways To Be A Silent Trump Protestor

, from The Huffington Post 

Here's How We Prepare to Be Ungovernable in 2017, from AlterNet
Leonard Pitts Jr.: Time to take OUR country back, from The Miami Herald
The Lesson from Standing Rock: Organizing and Resistance Can Win

, from The Nation

A List of Pro-Women, Pro-Immigrant, Pro-Earth, Anti-Bigotry Organizations That Need Your Support, from Jezebel
Nine Ways to Oppose Donald Trump, from The New Yorker
Opportunities for White People in the Fight for Racial Justice

, edited by Jonathan Osler

The Resistance: How to Defeat Donald Trump's Plot Against America

, from The Stranger

A Socialist Strategy to Defeat Trump, from CounterPunch
Speak Up: Responding To Everyday Bigotry

, from The Southern Poverty Law Center 

A 12-Step Program for Responding to President-Elect Trump

, from The New York Times 

20 Ways You Can Act Now To Support Muslims/Immigrants + Resist DT: A Solidarity Sundays Emergency Guide, from Medium
20+ Resources to Help You Process After the Election of Donald Trump, from Everyday Feminism
26 Ways to Be in the Struggle Beyond the Streets, by Piper Anderson, Kay Ulanday Barrett, Ejeris Dixon, Ro Garrido, Emi Kane, Bhavana Nancherla, Deesha Narichania, Sabelo Narasimhan, Amir Rabiyah, and Meejin Richard
What I'm Doing To Get My Black Ass Ready For The Next 4 Years

, from The Establishment 

What you – yes, you – can do to save America from tyranny

, from The Dallas Morning News


Websites and Pages

You'll find that many of these resources call for protests, which too many Americans only seem to appreciate when they are part of history.
So here's how those Americans can resolve their conflicted relationship with protesting:
Start protesting and make some history.  
To those who are privileged: the time you once spent enjoying your privilege must now be spent resisting.
Stay connected for more ways to fight for social justice: