If you grew up on a steady diet of network television and check-out-stand magazines, it's probably no surprise to you that advertising has been damn sexist – full of objectified and disempowered women.
It's one thing to be semi-conscious to conscious of this sexism, but it's a whole other thing to see countless examples of sexist advertising compressed together in one packed presentation, like the one Jean Kilbourne has been giving for over 40 years:
As a male, watching Kilbourne's presentation made the issue impossible to ignore or deny. It spurred me to act against a sexist advertising industry (which I try to do primarily through writing and teaching gender studies).
Pulling a page from Kilbourne's book, I wanted to attempt something similar – but target racism.
Even as a White American with the privilege of never having to feel the oppressive heel of racism firsthand, I have found my racism-filled newsfeed overwhelming and taxing of late.
Perhaps if more White Americans had social media newsfeeds like mine, they too would be compelled to act – not just be dismayed by racism but actually emotionally moved, pissed-off even, enough to fight back. After all, there is plenty of evidence that White Americans are disproportionately disengaged.
So I've created a compressed "newsfeed," the blog version of Kilbourne's presentation, highlighting all the racist incidents in about a week's span of time.
They show that racism, even in its most hateful forms, is ubiquitous, popping "progressive" bubbles and transcending national borders. While they are consistently anti-Black, they demonstrate that white supremacy attacks all groups of Color.
Together, they clarify what continues to elude much of White America: ending racism is primarily a white person's responsibility.
Before beginning to scroll through the week, consider the following:
First and foremost, if you are targeted by racism, proceed with caution; what follows, especially the video footage, may be traumatizing. Research has backed up what many folks of Color have long known: racism, even witnessing it online, has very real health consequences. I've written summaries of each incident so you don't have to watch the videos.
Second, while many of these cases can indeed be tied to Trump, I am not at all arguing that outright hate and blatant racism are new. In fact, Shaun King makes a compelling case that 2015 was one of the worst years of American racism in recent memory: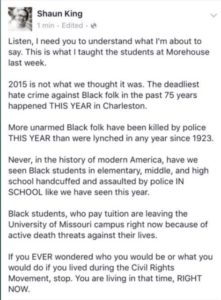 The system of white supremacy that galvanized racists during the Obama Era is the same one emboldening racists during Trump's term. In other words, though many are wearing hatred on their sleeves in ways I have never seen in my lifetime, Trump's rise is a symptom, not the source, of racism.
Third, consider that this snapshot of racism takes place during the summer, when most schools are not in session. Surveys confirm that much of the racism targeting youth of Color occurs in schools; thus, what follows isn't even representative of the racism prevalent throughout the bulk of the year.
Finally, keep in mind all the steps that take place before a racist incident reaches one's newsfeed. First of all, you need a person bold (or oblivious) enough to behave in a racist manner in front of witnesses. Next, you need to film the person acting racist. Then the video needs to be posted on social media, giving it a chance to go viral. Of course, then it needs to actually go viral. And, in many cases, it needs to go viral enough to attract the press's attention.
Imagine how much racism occurs without witnesses filming, unable to go viral or reach a news desk.
You have likely read about the white people calling the police on Black men sitting in a Starbucks in Philadelphia, Black people barbecuing in Oakland, and a Black 8-year-old selling water in San Francisco; it's unlikely that readers will have heard about all of the following displays of racism:
Day 9: Wednesday 
Long Island, New York: A man I read as white repeatedly calls Bentley Sanon – a father with his young son in the car – the n-word. Read news coverage here. Shaun King is currently using his platform to learn this person's name so that he can face consequences for his actions.
Day 8: Tuesday
Clayton, Missouri: Today, the St. Louis Post-Dispatch reports on an incident from 10 days earlier, during which 10 incoming first-year Washington University students, all Black, were stopped by Clayton police under suspicion that they left IHOP without paying. Despite being shown receipts of payment, the police, backed by six squad cars, forced the students to return to the restaurant, three blocks away. The IHOP manager told police that they had brought them the wrong people; their blackness appeared to be all the students had in common with the true culprits.
Sterling, Virginia: A man, now deemed #FragrantFreddie, calls the police on a Black man who gave him a "hard screen" in a pickup game at LA Fitness. Read a witness's account on Twitter here and the news coverage here.
Lubbock, Texas: According to a video by AJ+, students at Texas Tech University expose the anti–immigrant and racist comments of a group chat, through which one student proposes executing immigrants and another proposes selling permits for the "legal hunting" of immigrants on the border.
Berkeley, California: According to Atlanta Black Star, a woman, who I read as white, follows a Black couple for blocks demanding that they "get out of Berkeley." The video below shows the tail end of the encounter as the white woman is arrested. Read the news coverage here.
London, Ontario: At a grocery store, a man I read as white refuses to let a customer of Color leave the store by blocking his pathway to the door and even pushing him back, despite the man of Color's pleas to "stop assaulting me."  The white man's words are hard to hear but a witness says that he called the man of Color an "illegal alien," demanded to see his documents, and threatened to make a "citizen's arrest." Read news coverage here.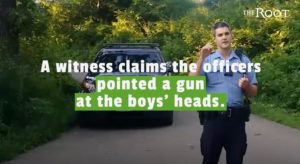 Minneapolis, Minnesota: Black teens, 13-15 years old, speak out about an ordeal they endured at a park the previous week. According to witnesses, not only were the four Black boys attacked by an older white teenager – who spouted racial slurs while brandishing a trash can and a stick (while claiming to have knife) – but they were then mistreated by the police, who had received a 911 call from the white teenager's girlfriend falsely claiming, according to witnesses, that the Black youth were the aggressors. After the white instigator and his girlfriend left the scene, the police arrived, putting the black youth in handcuffs at gunpoint, a scene that was caught in part on video here. When the four youth make their statement, Abdijabar Ahmed, just 13 years old, tells the press, "I was scared. I thought that would be my last day of the world."
Detroit, Michigan: Robert Stanzler, a white man, is angered that people attending a gathering in a space adjacent to his business were parking in his lot. Stanzler tells Ibrahim Mission, a Black man working as security for the gathering, to stop participants from parking there. When Mission directs Stanzler to the building owner, Stanzler flips him off and spits on him. Stanzler later apologizes. Read news coverage here.
Denver, Colorado: Fox News covers a story of white supremacist propaganda "suddenly appearing" in several Denver neighborhoods, emblematic of the sharp rise of hate propaganda – a 77% spike in universities nationwide, according to the Anti-Defamation League – and hate groups; the Southern Poverty Law Center reports that 21 of the country's 954 hate groups are based in Colorado. Learn more about hate symbols here.
Day 7: Monday
Cambridge, Massachusetts: Theresa Lund, a white woman, harasses Alyson Lalibert, mother of a biracial daughter, for playing too close to her home on Saturday afternoon during her children's nap time. Planting herself on the sidewalk, Lund asks her if she lives in the "affordable units." Lund, an employee of a Harvard research center aimed at "relieving human suffering" from war or disaster, later apologizes. To many, she is now known as #SidewalkSusie. Read Lalibert's post here and subsequent news coverage here and here.
Snellville, Georgia: While Morehouse student Eli Sabur is canvassing for a congressional candidate, three police cruisers surround Sabur, presumably because someone, likely white, called the police on Sabur, donning a campaign shirt and holding campaign literature. According to Sabur, such incidents occur "A LOT," about three times a month. Read news coverage here.
Sydney, Australia: AJ+ posts a video covering today's court hearing regarding the death of David Dungay, an aboriginal man killed in custody in 2015. Like with the case of Eric Garner, video footage shows Dungay clearly pleading, "I can't breathe." Black Lives Matter activist Hawk Newsome tries to raise awareness of Dungay's case.
Day 6: Sunday
Chicago, Illinois: According to AJ+, CVS manager Morry Matson, who I read as white, calls the police on Camilla Hudson, a Black American, because he suspected her coupon, which didn't work, was fraudulent. Ironically, the manager – a Trump supporter, now dubbed #CouponCarl – was found to have forged five (of 13) pages of signatures on a petition not so long ago, according to The Root. Read more news coverage here.
Chicago, Illinois: Police kill Harith Augustus, sparking protests in the city's South Side. To quell the outrage, the police expedite the release of the body cam footage, which shows Augustus to be carrying. According to Now This, the state of Illinois allows "concealed carry with a proper license." Augustus had the license for the firearm but not the permit to carry it concealed. The police initiated the interaction because officers saw Augustus "exhibiting characteristics of an armed person." It ended in police shooting Augustus "at least five times in the back as he ran away." Read more coverage of the killing and the subsequent outrage here.
Charlotte, North Carolina: A man I read as white, seemingly enraged by a "Fuck Donald Trump" yard sign, bangs on the front door to confront the residents, Tin Nguyen and Cat Bao Le. The video shows him threatening the couple ("I'm gonna get you!") and repeatedly calling them the n-word. When called a "cracker," the white man says he "built this country." Two days later, the community holds a rally to support Nguyen and Le outside of their home. Read the news coverage here.
This just happened to our family in Charlotte. Please retweet!!!! pic.twitter.com/t51mMqMT5Z

— Charlotte Uprising (@cltuprising) July 15, 2018
Day 5: Saturday
Dorchester County, South Carolina: Darshaun RocQuemore Simmons, a Black 15-year-old, speaks up about being physically assaulted and called the n-word at a community pool a month earlier by a 38-year-old white woman Stephanie Sebby-Strempel, now dubbed #PoolPatrolPaula. She was subsequently arrested and fired from her job. Read news coverage here.
Wilmington, Delaware: Tahsiyn Ismaa'eel, director of the Darul-Amaanah Academy, is told that the elementary school children she is supervising must leave the pool because they are wearing cotton clothing, a violation of pool policy. Having supervised such trips to the pool for four years, Ismaa'eel feels that this policy is not only unknown but is also being arbitrarily enforced, especially given that she overheard the manager discussing their "Muslim" identity with patrons before being asked to leave. Read news coverage of the incident here and here and of the mayor's subsequent apology here.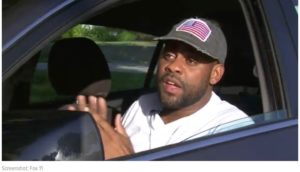 Long Beach, California: Ezekiel Phillips, a Black man, having arrived early to his yoga class, decides to spend the 30 minutes in his car listening to his Bikram yoga CD. According to Phillips, a white woman approaches him and says, "You're not supposed to be here. This is a good neighborhood." When he rolls up his window saying "Have a good day, ma'am. Namaste," she began filming him. Phillips responds by getting out of the car to film her, to which, according to Phillips, she yells, "Leave me alone! I'm feeling threatened. Help! Help!." She calls 911, claiming Phillips attacked someone, a claim the police refute. Nevertheless, the police affirm her decision to call them. Read the full story and watch the video here.
Day 4: Friday
I took a break, for the most part, from social media today.
Day 3: Thursday
In Surrey, B.C., Guerda Henry and her family, all Black, are asked by a townhouse complex caretaker to prove they have access to a swimming pool – in a complex that they have lived in for two years. According to Henry, a resident sends the caretaker her way only; the other families enjoying the pool are not questioned. When the caretaker is eventually appeased, this resident confronts Henry's niece, just 12 years old. The toll of this experience left Henry crying for the rest of the afternoon, as well as into the next morning. Read news coverage and watch the video here.
Couer d'Alene, Idaho: At a McDonald's, Richard Sovenski, who I read as white, harasses a youth group from Spokane, calling them "half breeds" and threatening them with violence. He is arrested five days later, violating Idaho's hate crime statute, according to news coverage.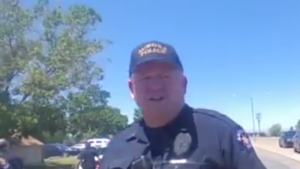 Aurora, Colorado: The Root reports that a racist police officer has just been rehired today. Lt. Charles DeShazer, who I read as white, had been fired for calling a Black crowd, which gathered in response to a high-speed chase and police firing 30 rounds, "Alabama porch monkeys," prompting a fellow officer to turn off his body camera. DeShazer appealed the termination and the city's Civil Service Commission voted 3-1 to reinstate him. Read additional news coverage here.
Day 2: Wednesday
Martha's Vineyard, Massachusetts: A bus driver, whose race is not identified, refuses to pick up Kevin Brooks because he is Black. I found the details of this story a little confusing, but here's what multiples sources confirm: Vineyard Transit Authority (VTA) video footage shows the driver initially justify not stopping because the bus was full. When challenged, the driver says he didn't stop because Brooks is Black. The driver says this directly to Brooks, who took an Uber to the bus station for an explanation. Upon reviewing the footage, the VTA fires the driver. Read news coverage here and here.
CNN panelist and Democratic strategist, Angela Rye breaks down as she discusses the toll of racism in Trump's America, where calling out racism leads to gaslighting and being accused of racism. Rye says that the tears came in part because of hope, as former Congressperson and Republican David Jolly acknowledges what too few Republicans have the courage to acknowledge: "this president is racist."
Day 1: Tuesday
Commerce City, Colorado: Now This releases video footage of an incident from two months earlier that shows two white women aggressively verbally assaulting a Latinx family – Carlos Ruiz, his mom, and sister – outside their home. One white woman invokes her allegiance to white supremacy by yelling, "Compared to me, who are you?" Antithetical to what the video shows, the white women claim the Ruiz family assaulted them, even owning their white privilege by yelling, "Who do you think [the police] are going to believe?" In the end, the police arrest the white women and charge them with "bias-motivated assault"
Los Angeles, California: Angela Jefferson, a Black woman, is reading outside a grocery store when, unprovoked, she is attacked by a man I read as white. He tries to hit her with some sort of metal rod, which she dodges, while calling her the n-word and b-word. A bystander comes to her aid and another starts recording. The video shows this bystander putting himself in harm's way, demanding that the white man leave – all while a security guard lingers but seemingly does little. The one filming recounts, "It was just so scary, and just the fact that he was expecting the security guard to back him up when he was armed and attacking two people with metal rods." Read news coverage here.
***
And I have no doubt that I missed many incidents during this time period.
I was hoping to work my way back a couple months to the period of spring that sparked the idea to write this piece – the period during which police gunned down Stephon Clark in his grandmother's backyard, which was a bit before police arrested two Black men for sitting in Starbucks, which was a bit before a white Yale student called the police on a Black Yale student who was napping in her dorm's common room.
Instead, I made it through about a week of incidents before this piece grew far longer than the word-count of an average article.
And even after I finished, the stories kept streaming in:
So what do we do with all of these stories?
Well, first of all, we have to understand that racism is happening everywhere, all the time. You'll notice that The Root, AJ+, and Now This are the sources for many of these stories. Follow them – and Shaun King!
At the same time, awareness in 2018 about a problem that people of Color have been fighting for centuries is step zero.
Of course, it makes sense if many white readers are at an early step in understanding racism. Too many white people never formally study these topics. To help folks get an education that our schooling rarely provides, I created the 11-Step Guide to Understanding Race, Racism, and White Privilege. It culminates in taking action.
Action is what we really need from white people – anti-racist action. After all, in the incidents documented, white people are pretty much always the ones perpetrating racism. (And if a white person ever does encounter a burst of resentment and anger from a person of Color, hopefully this article helps explain where that resentment and anger might come from.)
It only follows that it is white people's responsibility to stop it.
My guide offers ideas for action, but I'll defer to Abby Norman's words, which went viral and are especially pertinent to this piece: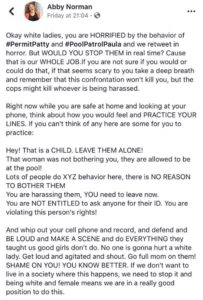 To paraphrase Shaun King: if you have ever wondered what you would have done during the Civil Rights Movement, what you are doing right now is your answer.